I've been searching for a new toy and I think this is just what I've been looking for!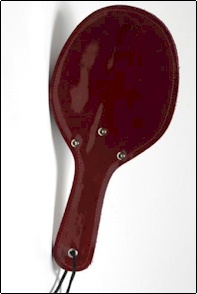 I found this at Eros Boutique and decided it's the paddle for me! I really liked this description: "the round design gives a 6 inch round spanking area, which feels like a hand spanking you". It sounds like the perfect replacement for that awful CB paddle. And it's red! That's a bonus for me since I like pretty toys. 🙂
I hate to admit defeat, but I'm afraid that the CB paddle has won. I've tried and tried to get used to that thing but for some reason I just can't get to the point where I like it. I've never been defeated by a toy so this is really hard to take.
For crying out loud, it's only plywood! Sheesh. I always thought if an implement would finally get to me, it would be something intense like the cane. But noooo, I've come to *like* the cane. I've even learned to enjoy that nasty little crop. And when I say "nasty" I mean it in the nicest way. *grin*
I just hope Dan likes this paddle as much as I do. He's got it in his mind that we need a schoolmaster's strap like Patty's. Eeek!