I've decided the quickest way to get prizes is to go out and buy them myself. Okay, so maybe it's more of an excuse to go shopping for fun stuff but don't tell Dan.
This weekend, I gathered my usual cohorts (my sisters and Mom) and we set out in search of goodies/prizes. We hit our usual spots and had great luck. We even stumbled upon a bake sale and were able to refuel with the help of cookies and cupcakes full of brat sustaining chocolate. Quite yummy!
I even found these wonderful panties perfect for bratting around in.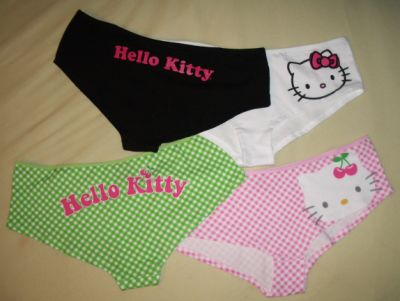 Aren't they cute? I love panties like these. It's not that we play age games either, I just like wearing something fun that isn't traditional. I like sexy, lacy undies, too, but mixing it up keeps things interesting. This way Dan never knows what he's going to see when he pulls down my pants.
Of course, if you ask him, he'd just as soon I not wear any panties. Going commando is fun but I like panties. I mean, I really like panties. You might even say I have a panty obsession. Dan seems to think I do. I'm not convinced though.
I like to think of wearing panties as dressing up the goods. Yeah, they're fine on their own but a little mystery and fun can be sexy, too. Especially for a spanko like me.
Panties are part of a good spanking for me. I love that feeling when he pulls them down. It's foreplay and I like being able to contribute whatever I can to that experience.
My panties say a lot about my mood. Cute panties mean I'm feeling bratty and playful. Racy panties mean I'm feeling sexy and playful. No panties mean I was playing too much and didn't get around to laundering the panties I really wanted to wear.
That reminds me, I need to do laundry after being gone all weekend. A brat's work is never done. *wink*