Carrie over at ASLAN Leather has sent me a link for those of you in the UK who wanted the bondage belt I blogged about earlier. UK shoppers can find this fun belt at Nua.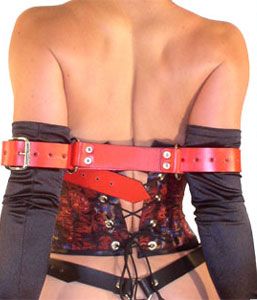 Isn't that just lovely? I like that pose and I'm sure Dan would, too. He's always complaining because I get my hands in the way when he's pinching my nipples or doing something of that nature. That belt would be a fun and stylish way of securing my hands.
I think it's just great and I love that beautiful red color.