I was looking for something fun to blog about and came across a site that sounded promising, S.P.A.N.K. M.E., so I went to take a look. Turns out it's the Society for the Promotion, Advancement and Necessity of Kilts on Men Everywhere.
Wheee! Now that sounds like my kind of society because I've always been a proponent of kilts. Honestly, what's not to like? They're sexy and easy access. They have some nice pictures that really support their cause and I just had to share one.
Okay, anyone who doesn't want to see naked man butt needs to look away now or scroll down the page.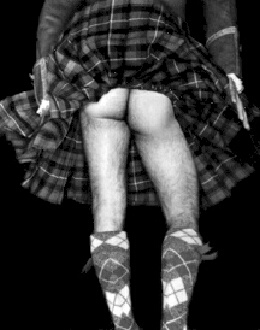 Now for Dan and anyone else who doesn't like looking at naked man butt, here are two lovely female bottoms for you.
Now is everybody happy? *grin*