We're getting ready to go on a little vacation and in the middle of all the hustle and bustle, Dan presented me with a present to take on our trip.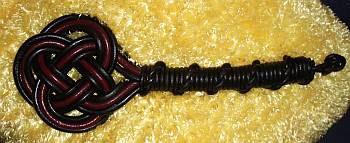 Isn't it lovely? I've been wanting one of these and I couldn't believe he was sweet enough to get me one. Of course, when I told him that, he grinned his evil grin and said, "We'll see how sweet you think I am after I've used it on you."
I couldn't wait so I asked him to use it right then and there, handed it to him, then bent over the end of the bed with my bottom stuck up into the air. He gave me six swats with it and I was amazed at how much sting that thing delivers. Oh my!
I hopped around a little and rubbed the hot spots where it had landed while Dan enjoyed the show. Then I pulled my jeans up and immediately regretted that decision and pulled them right back down. It turns out it's one of those toys that delivers a burn that takes some time to really settle in.
I could feel the heat pulsating out from my bottom and it turns out that a few welts were even developing. They didn't last long though. They just burned like crazy for a while. This is not a toy for the light players but for those of us who enjoy a deep and lasting burn, it's great.
Besides, it's absolutely lovely. If you'd like to know where he bought it, Dan gave me this link for Purple Passion where he found it.