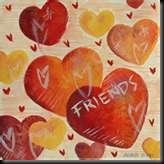 "These blogs are exceedingly charming. These kind bloggers aim to find and be friends. They are not interested in self-aggrandizement. Our hope is that when the ribbons of these prizes are cut, even more friendships are propagated. Please give more attention to these writers."
The Rules to accepting this award: "Deliver this award to eight bloggers who must choose eight more and include this cleverly-written text into the body of their award."
Kaya of Under His Hand gifted me with this award and even though I have been slow to respond, I'm here now! Thank you, sweet Kaya! You truly are a great friend to have. Despite that whole Misery Stick incident, of course. *wink*
I only get to pick eight? How can I only pick eight when there are so many of you wonderful blogging buddies out there? Here are my eight with lots of love going out to all of you bloggers who do what you do.
Tracy that wonderful AngelBrat
Bonnie of My Bottom Smarts
Padme of Journey to the Darkside
Tiggs of A Spanking Good Time
Todd and Suzy of American Spanking Society
Sparkle of Life in Motion
Wilhelmina of Wilhelmina Dreams
Sara of Finding Sara
Just eight wasn't enough!