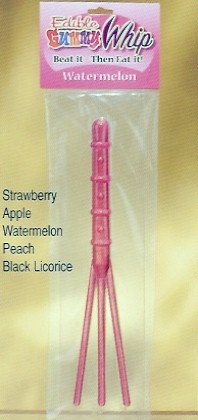 I found this gummy whip at a couple of sites, Sexy Tickler and Chocolate Fantasies, and it reminded me of this discussion we had about making toys out of candy.
It even comes in different flavors! I think a watermelon flavored one would be yummy. Mmmmm…
*Update* I'm afraid Chocolate Fantasies turned out to be a not-so-consumer-friendly outfit. If you haven't read it yet, check out my sweetie's post about his experience with them. I just wanted the rest of you to beware should you try to order something from them and you have the same feelings as we do about giving out too much personal info. I was quite taken aback by their attitude. You'd think they'd understand why we're reluctant to give out any more info than is necessary for a transaction considering they sell "adult" products.
Oh well! We placed an order with Sexy Tickler without any problems so I should be getting my gummy whip in plenty of time for the big day. Yay!