I think I've found my new best friend!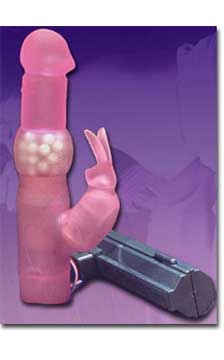 This yummy bunny can be found at Lovers Package. I've been wanting one of these vibes with the rotating beads since I got the chance to handle one at a sex shop recently.
Dan and I were in a shop that had several different versions of this type of vibe on display complete with power so you could handle them. They were afixed to a counter but you could turn them on and feel them with your hands. I was like a kid in a candy shop.
Poor Dan was pretending he didn't know me. Maybe because I was oohing and ahhing and saying stuff like, "Oh my! You've gotta feel the motion on this one!" Okay, maybe I did go a little crazy. But I want one!