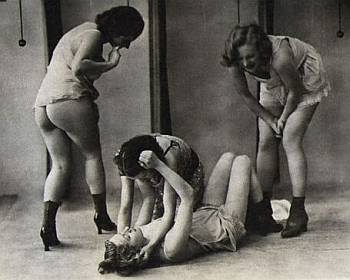 Somehow today, I got spanked for someone else's catfight. Can you believe it?
It started like this, I was describing the latest little bit of cattiness among my female acquaintances and Dan was supposed to be listening to my story. I assumed he was listening with interest since this was an important part of my day. Little did I realize he was just humoring me.
As I launced into round two of my story, he said casually, "Do you realize I'm as interested in what you're saying right now, as you are in what that-girl-you-don't-like says to you?"
I was so surprised and taken aback, I responded in the only way I knew how to. I stuck my tongue out at Dan.
Well, that of course, can only lead to one thing. I got spanked. And spanked with one of the stingy oar paddles. Ouchie!
Dan then explained that he was only teasing me when he said that to me. How was I supposed to know? All I know now is that I'm sitting on a bottom that still stings from that spanking.
Makes me wish I could pass it on to the brats that I was telling him about in the first place. I'm no top, but I'm starting to think I could actually do something like this. LOL