Right now there are too many people hanging around waiting for turkey so there's not any kind of spanking going on here today. And it's such a good day for spanking, too! I've been feeling stressed and today I have no appointments to keep or phone calls to make. I need some spanking time!
Oh well, since I couldn't get a spanking I decided to surf around seeing how other brats get their spankings.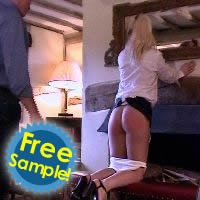 This pic is from Spanking Vids where they're offering some free samples of their offerings. I *like* that scene. See that mirror in front of her? That could be fun or scary depending on the spanking, but I'm always kinda curious to see what's going on and I wonder what kind of faces I'm making.
Mirrors play a big part in my spanko life. I have full length mirros so I can look at my bottom after a good spanking. I'm not as gleeful about my marks as Dan is, but I still like to look. There's something about seeing my bottom glowing a nice rosy red that I always enjoy. Yummy!