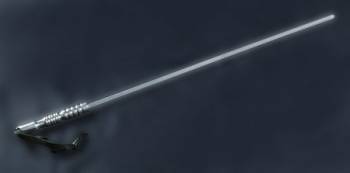 This is a pic of my new lexan cane from Extreme Restraints.
This wasn't the type of cane I was expecting in my stocking this year, but I've been enjoying it all the same. It's also not a defective light saber either, I'm sorry to say. I'm really sorry right after he's landed a particularly hard stroke with it. *grin*
I still can't believe how much that little thing stings! It looks so cool but it burns like crazy. Right after we got it, we were playing around with it, and Dan was just giving me a few light strokes with it when I decided it was more than I'd bargained for.
I was lying facedown on the bed getting to know my new toy, when Dan landed a real stingy stroke. It wasn't too bad at first, but then the burn started to build up awfully quick. I started bouncing around, whimpering and complaining, just as Dan's next stroke came down. That stroke landed hard and more to the side than he had planned for.
Wow! I yelped and started grabbing at my bottom but that was one of those strokes that couldn't be helped by rubbing. I rubbed all around the area, while Dan checked out the injured area and pronounced it good. I tried to convince him it wasn't good at all, but he was too impressed with the welt it left. Go figure! LOL
I have to admit, once I got a good look at the welt, I was fairly impressed as well. I may not be as into marks as Dan is, but I still like to see some results. That was a good welt, too, I felt it for the rest of the day. That's amazing with my tough bottom. It usually takes a lot more effort on his part to leave any soreness.
The next day was a different story. The welt was gone and I was feeling pretty good about the whole experience, so it was time to try the cane out a little more. I was about to go out for a little shopping, so Dan decided a little pre-shopping caning was in order. This time Dan was trying for "hot crossed buns."
I laid out on the bed and Dan gave me three good strokes with the cane. He gave me two straight across, and then one crossing the other two. They weren't nearly as hard as the previous one that left the impressive welt, but those three strokes still got my attention. Wheeeeee!
As soon as he said that was it, I immediately started rubbing with both hands trying to relieve some of that sting. It didn't do much good though because it burned on and on. It slowly subsided into a nice even warmth that I really enjoyed though.
It's a pretty intense little toy, but so far, I'm really enjoying it. That could be a problem later if that part of me that I refer to as "Pain Slut" gets any say. Pain Slut may get so greedy that she'll ask for a long caning with that thing or something just as ridiculous. That's the great thing problem about that part of me, it always gets me in trouble by asking for the more intense toys and even enjoys them!
I'll write an update about the cane as soon as that part of me gets her way. It shouldn't be too long before that happens, Dan know what he's doing by introducing that cane like he has. He's just been teasing me with these little sessions with it. Now I'm starting to wonder what a nice long session would be like. I could be in trouble, but that's the kind of trouble I like. *wink*