I found this lovely bath set at an after holiday sale and couldn't resist buying it.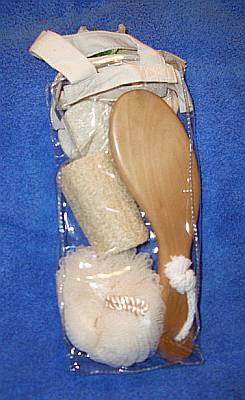 It's got everything a girl needs for bath time; a couple of loofah scrubs, a mesh sponge, and a nice wooden bath brush. That's right, a handy little bath brush. Not that the brush will ever be used for it's intended purposes. I know a spanking toy when I see one, and I couldn't believe my good luck in finding such a pretty new toy and it was on sale, too!
I was quite pleased with my purchase so I immediately showed it to Dan when I got home, and as soon as I got it out of the package, he bent me over for a trial spanking. Because the handle is angled a little, he had to experiment quite a bit to get the "feel" of it. In the meantime, I was definitely getting the feel of it and started to realize that brush might not have been such a bargain after all. It stung and I had the feeling I'd be paying for it, over and over again. *wink*
I thought that by getting another bath brush, Dan would have an alternative to the big bath brush for those after-shower spankings we both enjoy. A nicer alternative, I should say.
When Dan uses the big brush, he only gives me a few swats because it's heavy and doesn't take much to leave an impression. Especially since we only play with it when I'm fresh from a shower and my bottom is all soft and tender. I thought a lighter brush would make a nice change once in a while.
It's nice alright – nice and stingy! Although not as intense as the big brush, is easier to handle and because it's lighter, can be used longer…much longer. I found that out the other morning when I got to spend quite a bit of time bent over the side of the bed while Dan used it to color my bottom a pretty shade of red.
I had a nice glow going for quite a while after that, I must admit. I doubt it's the same glow the people who packaged that set intended, but I'm happy. And it was on sale! Yay!
The best part is, I went back and bought a few more of those bath sets to share with my fellow spankos. I'm planning another contest at the Den and they'll make great prizes. That's right, I said prizes! LOL