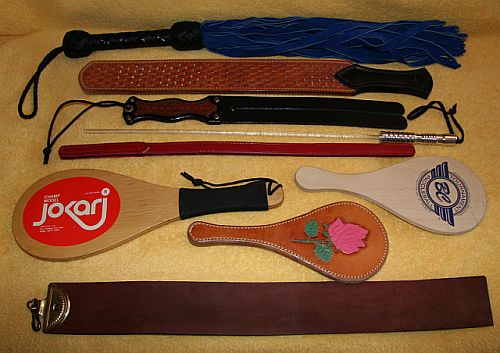 Here are the nominees!
1) Leather Flogger
2) Large Strap
3) Tawse
4) Clear Acrylic Lexan Cane (aka faulty Star Wars light saber) I just found out it's a lexan cane, not acrylic. Oops!
5) SchoolMaster Strap
6) CB Paddle
7) Jokari Paddle
8) Leather Rose Paddle
9) Razor Strop
Not pictured:
10) Riding Crop This is a late entrant…'cause I forgot it when I was getting the toys together. Whoops!
Since I'm right in the middle of a big project and couldn't participate in the Love Our Lurkers day festivities as I would've liked to, I've decided to go ahead with Spank Vote '06 as I proposed earlier.
Here's what you can do to help a greedy spanko get some good spanking: Post a comment voting for any of the above implements. At the end of the week (next Sunday), I'll tally the votes and announce the winning toy next Monday. Every comment, no matter which toy was voted for, will count toward the final spank count. Dan will then give me that many spanks with the winning toy.
This is a chance for those of you who haven't commented before to do so for a good cause and give those of you who comment regularly even more reason to comment this week. You'll all have a whole week to get your vote in!
If you already delurked or voted in my previous post, your vote will still count here. If you're a new delurker, your comment will probably get held up in moderation until I can get to my computer later this week, but it will definitely count.
Also, you can vote more than once. Since some comments might get held up in moderation, there could be a surprise result. It might get interesting. I'm curious to see who votes for what toy. If y'all are real nice, I might even post some after pictures.
And if no one votes, oh well, I'll just tell Dan everyone voted for one of my favorites and give him a reasonable number. Heh.