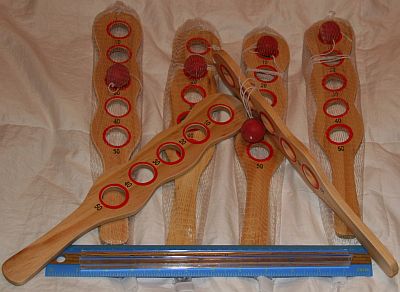 Okay, since a couple of people asked (Hi Terri and Tracy!), I thought I'd show a better picture of these toys. On the tag they're called paddleball games but they're not the traditional round style.
These have holes marked with numbers for some kind of scoring game, but that didn't go well for me. I tried for a bit, then decided the elastic string was too long and the ball too bouncy because I couldn't get the silly ball to land in the holes and stay there.
After several minutes of aggravation, which was made worse when Dan growled at me that if I hit him in the head with that ball I'd be in trouble, I gave up. I removed the string from the hole, sanded down all the sharp edges, and made myself a new spanking toy. Problem solved! Ha!
The toy itself is a little over 12″ long, around 2″ at the wide spots, and just over 1/4″ thick.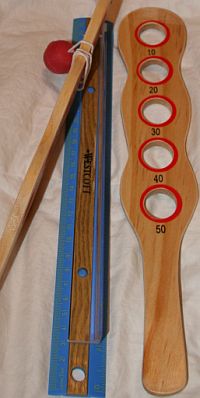 I'm just glad I didn't hit Dan in the head with the ball when I was playing with it. It's one thing if I pervert something on my own but completely another if Dan does it for me. Or rather, to me! *grin*