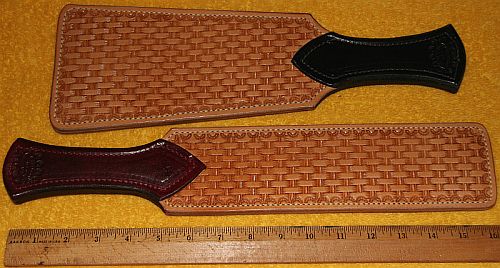 These wonderful paddles are from Leather Thorn Paddles and part of the loot I received for Christmas. In the picture, that's an 18″ ruler to give you an idea of their size. That 16″ paddle is the Buster Paddle. I love it! John does awesome work and we've been having a great time breaking these lovelies in.
I'll tell you more later about just how much fun we've been having with them. I will say this for now, that wider paddle is quite ouchie on a bare bottom first thing in the morning. Who needs coffee when Dan has that to get me going in the morning?
I'm sorry I haven't been around lately and my Christmas present report is way overdue, but real life stuff has kept me hopping. Nothing has been wrong, I've just had a lot going on with one thing or another. Life is good, just really busy! I'll be back soon with a complete report.