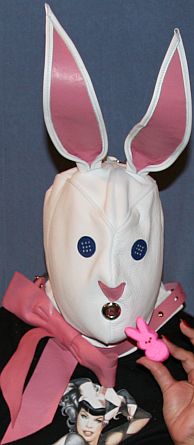 This bunny hood was one of my Christmas presents and I just think it's too cool. I don't know why, I just do! I also thought it was appropriate for this pic of me and one of my Peeps.
I'm not usually a big fan of those marshmallowy sugar bombs, but when I spotted a package of these super pink bunnies tonight, I couldn't resist. (I blame it on a hormonal imbalance btw.) I resisted opening the package at first, but I finally gave in. I was enjoying the soft, sugary goodness and without thinking (because I was on a super sugar high), I wondered into Dan's office.
Dan doesn't like being tempted by sweets so wandering into his room with sugar all over my lips and Peep bunny ears hanging out of my mouth wasn't a good idea. When he reminded me I wasn't supposed to bring sweets in to tempt him, I shoved the last of the bunny into my mouth and said, "Okay, it's gone."
That's what I tried to say anyway; it's hard to talk with your mouth full of marshmallow goo.
Dan didn't appreciate that at all and somehow I ended up over his lap with him tugging my pants down. He keeps the miniature varnished oar paddle handy for moments like that and began spanking me vigorously with it. That thing stings!
I think it's all that varnish it's coated with. It also doesn't help that the handle is long enough to give him some serious swing action. Not that it really matters, I just know that every swat stings like crazy! A spanking with that paddle always gets my attention. Always!
Of course, the oar paddle is one of Dan's favorites. Not only is it a highly effective implement intensity-wise, it doesn't require too much work on his part. That's why he keeps it within reach from his computer chair. I know that, but I still manage to get an awful lot of spankings with that paddle. You'd think I'd learn, but I never do. Heh.
Back to the spanking; it didn't take a lot of swats from that little oar to get me squealing and kicking. As usual, Dan took my reaction as a good sign and stepped up the spanking. He had a good grip on me so I couldn't get away, all I could do was complain. I always do a good job of that. I couldn't help it though. That paddle is pure sting.
Dan finally let me up, but not before finishing me off with several extra hard swats. I hopped up and ran for the door while trying to tug my pants up. He took the opportunity to get in a few parting swats. As soon as I was out of arms reach, I stood there rubbing my bottom and wondering how I could replace that paddle with something of my own liking. Nothing came to mind so I went back to my computer and my Peeps.
That's when I decided to take a picture of myself in my new hood. After all, it's the bunnies that got me in trouble in the first place.
I keep planning to put up pics of my new toys but I never seem to get around to it. But since I've sort of got a bunny theme going tonight, here's the plug Dan gave me to go with the hood.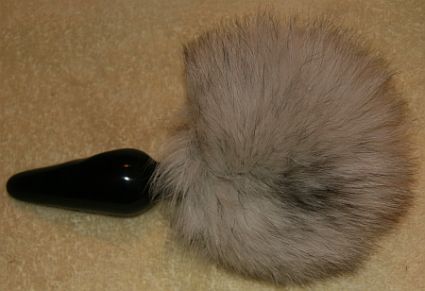 Isn't it pretty? We haven't used it yet, but I have plans. I just can't decide what lingerie would go with a bunny hood and tail. Yes, I know, bunnies don't wear lingerie, but I do!
I almost forgot to mention where Dan found these goodies, in case anyone is interested. Bunny hood and bunny tail plug can both be found at JT's Stockroom.