Unlike my honey, Dan, who updates Spanking Blog no matter how busy he is, I can't seem to blog as regularly as I'd like. Even when I have new spanking toys and other kinky goodies to talk about! I've got a backlog of exciting reports on those.
What have I been doing? Well, we've done a little traveling, some visiting with friends and family, and some other fun stuff that has kept me busy and away from my computer. I also think I may be putting so much time into other online projects that when I am at my computer, I'd rather relax and play a game. I'm here now though for a quick report.
Here's one of my new kinky toys.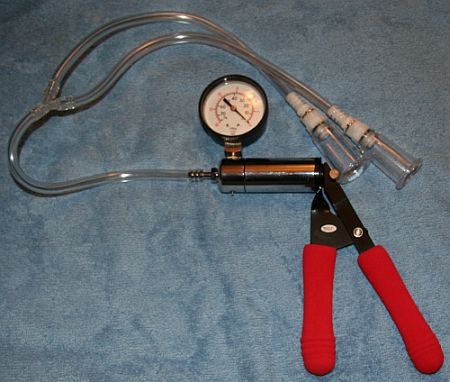 It's a nipple enhancement pump with a pair of nipple cylinders. The cylinders go over the nipples and the pump provides some serious suction. The cylinders can even be detached from the hose and they'll keep their suction. It can be pretty intense but I *like* it. I like all sorts of intense nipple play so this really works for me.
I saw this sort of pump being used in a couple of videos and I was immediately intrigued by it. I did a some searching and found one I thought I'd enjoy. I had to order it. Now I may need to order more cylinders.