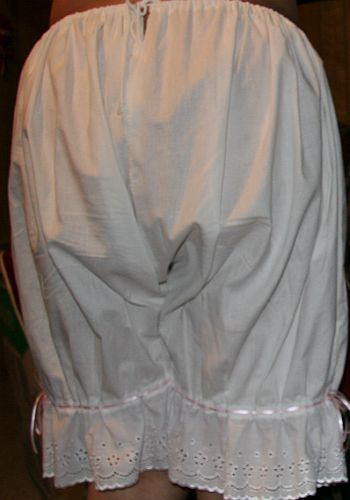 That is, my new bloomers "open in the back!" I love them. Besides being frilly, girly bloomers, which is cool, they're roomy and comfortable, too. Of course, Dan approves of them. He likes anything that gives him easy access. *wink*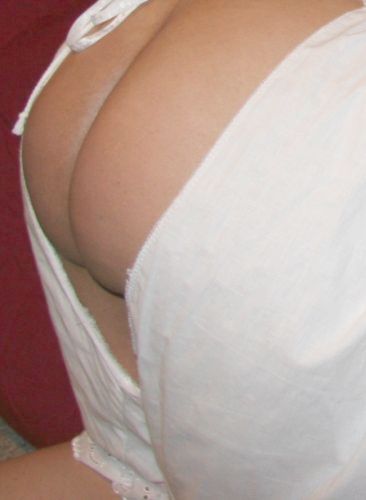 See? They open right up!
I suppose these are my before pictures. I'm hoping to have some after pictures later this weekend. I hope, I hope, I hope! I took these pictures while Dan was busy working on something else so he didn't get to take advantage of the situation like he normally would have. I was bent over the couch with my bottom hanging out, after all. But he wasn't around to do anything about it, which meant I had to take "the show" to him.
After I finished taking my pics, I wandered into his office to let him know what he'd missed. I was wearing a loose half shirt and the bloomers so he naturally turned his attention to me. I didn't have a bra on, and as that little shirt tends to ride up, it didn't quite manage to cover the lower part of my boobies.
My half exposed breasts immediately caught his eye and Dan went straight for one of his smaller straps. It's one of the straps he saves for breast strapping because of its size. Dan folded my shirt up to completely expose my breasts, then strapped each one in turn. If he hadn't had such a firm grip on each one as he strapped it, I probably would've jumped halfway across the room. Oh my! I never know whether to growl or purr when he does that. I actually kind of do both which is just odd.
I hate/love having my breasts strapped. It's sort of a sensory overload for me and my brain has trouble sorting out all of the feelings that come rushing at it all at once. Some crazed part of me lurves it while the more sensible part of me absolutely hates it because it freaking hurts…and yet, it hurts so good. No wonder I'm confused! *grin*
Ahh the life of a masochist. And, hey, it's the weekend! Woo-hoot, let's party! I'll get up to something naughty so I can take some "after" pictures. Well, that's not the real reason. I'll just get up to something naughty because that's the way I am. Ha.