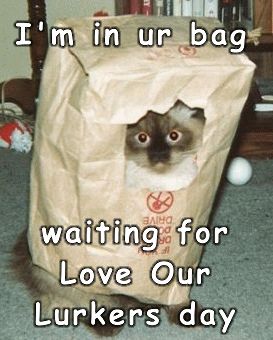 Bonnie of My Bottom Smarts has organized another Love Our Lurkers Day and it looks to be a great one! If you are one of the silent readers who visit here and other blogs, this is the day we encourage you to step out of the shadows and leave a comment.
I know you're out there, so do a gal a favor and say "Hi." I would beg but I have to save all my begging for Dan, so I'll go for the pity tactic. I have a terrible case of tendinitis so I'm typing this using just my left hand…and it's taking forever! I'm dedicated I tell you! And if it weren't for spell check, this post would read more like a lol cat wrote it. LOL (Sorry, I had to do it.)
Even if you don't comment here, go visit Bonnie or any of the blogs Bonnie has listed on her Love Our Lurkers post and comment there. At least make the rounds and see what's going on for this LOL day. It'll be fun I promise!
Normally I would automatically offer up my bottom to be spanked in exchange for comments so I hate to disappoint (I've done this for the previous LOL Days I participated in after all), but I feel like playing a little game while we're at it. I'm calling it the "Spank Bethie with Comments" game. What are the rules? We don't need no stinking rules! But I guess I should tell you how to play or we'll just run amok, won't we?
Okay, here are a few guidelines. If you've been reading here, then I bet you know which toys are available in my toy box. If you're new, you can always go back and see what I have. I promise, there are lots to choose from. With that in mind, if you want to get me a swat in exchange for your comment, tell me which toy you think it should be with and why. While you're at it, tell me a little about yourself as well. I'd love to know more about the people who visit me here!
When I tally the numbers later, I'll see which toy got the most votes and the total number of comments will determine the number of spanks. Since there are no rules you can vote more than once if you want to vote for a different toy. I'm doing that so you delurkers will get a chance to practice comment posting. It's not that I'm greedy or anything like that. *wink*
If you're not delurking and just want to show how much you lurve me…I'll count those comments, too. Nope, I'm not greedy at all!
In case you need a suggestion…pretty rose paddle!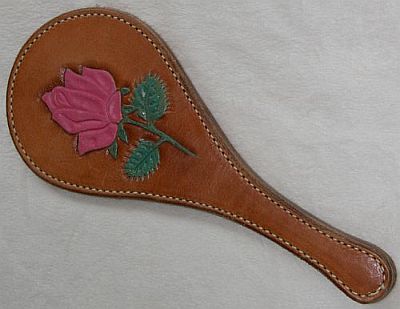 *Note: If your comment goes into moderation, that is normal because of my comment security and I will approve your comment asap.*