I love chocolate and at the moment I'm craving it like crazy. I'm blaming it on hormones and hoping my emergency stash gets me through the night. Otherwise, poor Dan might be forced to go out in the middle of the night and hunt some down for me.
For now I have a couple of chocolate bars left over from our last trip. They're not in the best of shape though. They got smashed in my luggage and are completely stuck to their wrappers.
Dan's offered to peel the wrappers off for me should I get too desperate but I'm not sure if he offered out of sweetness or self-preservation. I can get a little grumpy when I'm like this. What's worse is that it's not a good time for a spanking either. *pout*
Trying to take my mind off my troubles, I went surfing around and stumbled across something at Condomania that almost pushed me over the edge.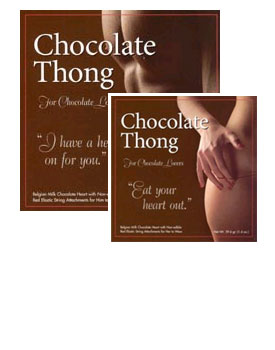 I found these under the category of "Sinful Chocolates" and they have his and hers. I loved this description: "As soon as she puts on this thong, the heat from her body will begin to melt the chocolate heart." His chocolate has a hole in the middle of it for…well, you know what for. I almost started to drool. Oh man, I may have to ask Dan to peel those candy bars for me after all!