All brats beware! Now that summer will soon be upon us, the stores have stocked their shelves with all kinds of new nasty toys for evil minded tops to find.
Prokadima game sets are plentiful and come in many varieties. Dan found a set like this one at a local department store among the beach toys.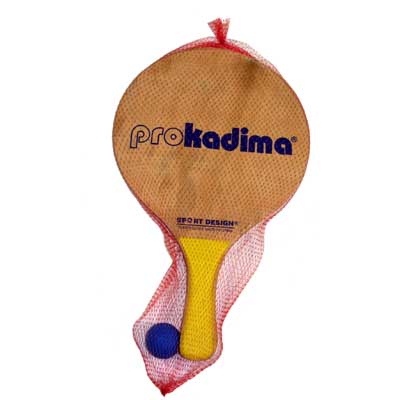 Not only is this thing big, it stings something awful. They say it's a popular beach game but I have my doubts. I've never seen anyone out playing with anything like this before. I'd have noticed.
The worst thing about these sets is that they come with two paddles per package. Two! I can't even hide one and pretend he just misplaced it. The darn thing came with a backup paddle.
The other item to be aware of is that scary thing marketed as a handheld bug zapper. It looks like a badminton racquet with metal wires but isn't anywhere near as innocent. If you doubt me, take a look through these movies Dan linked to in this post. There are two that feature the zapper in them.
We haven't played with the zapper paddle for a while but I remember its "zing" very well. Ouchie!
I swear there are some evil tops out there marketing these summer goodies. I keep envisioning a beach scene, the "Jaws" theme is playing in the background, and tops are lurking about with Prokadima paddles and bug zappers ready to attack. Oh my! I remember when all I had to worry about was a wet bottom spanking! *grin*