As I've mentioned before, I love playing dress-up and I often surf the net looking for just the right look for inspiration. I usually have an idea of what I'd like and sometimes I see a picture that captures just what I'm looking for. I'm especially fond of browsing through vintage pictures and I recently found this lovely image.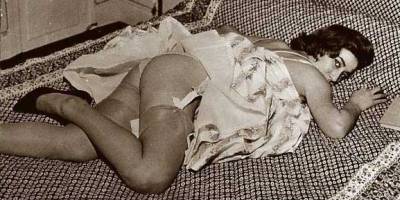 I found this and was immediately intrigued by it. There's something about the way she looks. She appears so vulnerable and sexy with her skirts tossed up over her, exposing her bottom in such an enticing way.
In my fantasy wear, I enjoy frilly, ultra feminine outfits. Lingerie with lots of lace, silk, or filmy materials that let me feel girly are my favorites. The best are the ones that allow easy access for spanking and whatever else plays out in my fantasies. *wink*
Lately, petticoats and bloomers have been catching my eye. I especially like the split bloomers that open in back. Those look just about perfect for spanking play to me. Right now I think a set of frilly petticoats over those bloomers would be just the right look I'm dreaming of.
Mmmmm I'm envisioning it right now. Dan finds he can't spank me through my all my skirts so he bends me over something handy like the sofa arm and procedes to flip the petticoats up over my back. After a quick warm up over my bloomers, he stops and slowly undoes the ties and exposes my tingling bottom. I imagine how my bottom must look framed by my skirts and opened undies. Ahhhhh…
Okay, back to reality! I think I'd better do a little searching and see what I can find. I think I know where to start, too. You can be sure that if I find them, I'll report back with a shopping review and then a spanking review after that. *wink*