I just received a wonderful and totally unexpected surprise – this lovely pink paddle and cuffs set!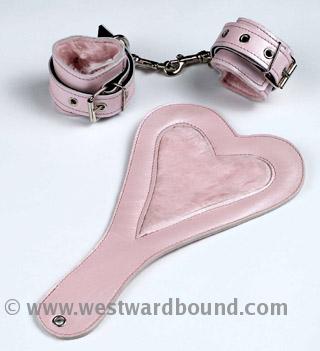 They're absolutely yummy and I couldn't believe Dan got them for me. I love pink! I was so excited I immediately tried on the cuffs. Which of course gave Dan ideas and he hooked them behind me so he could try out the paddle. It's light and stingy so it's going to be perfect for that long good girl spanking I've been trying hard to earn.
Hey, I've been working hard to get that gg spanking and I think I'm due one. Especially since I just got this beautiful set of toys! Yay!
Sorry, I'm just excited. I love getting presents from my love, especially pretty kinky ones. He bought these from Westward Bound in case anyone's wondering where Dan does his shopping.
Okay, I've gotta get back to work on earning that gg spanking. Busy, busy, busy!