Sorry, no spanking tidbit today but I have found something fun you could do if you're looking for a home project. The Clone A Willy, a do-it-yourself dildo making kit…and it vibrates, too.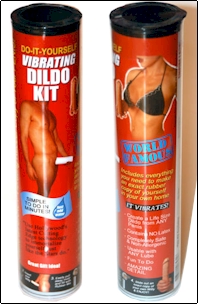 Available at Erosboutique in the "New & On Special" section. It's perfect for those of you who have partners who travel or aren't always available for those "special moments" in a girl's life.
They even provide directions that seem easy enough to follow.
"How Does it work?
#1 Mix molding powder with water.
#2 To make the mold insert penis and hold for 60 seconds.
#3 Easily remove your penis and pour in the 'Liquid Rubber"
#4 Simply slide out your permanent replica."
I think it'd be handy to have that kind of reminder of your man to keep you company even when he's away. Besides that, it sounds like making the "replica" would be pretty fun all on its own. I don't think talking him into the project will be a problem once I let him know how I plan to get him ready for the mold. Heh-heh!