Here's a few of my favorite spanking toys that Dan's hung on the wall across from our bed.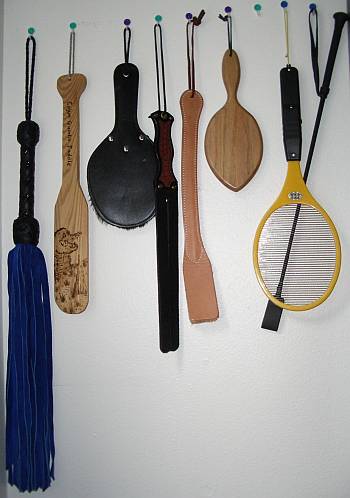 These are most of our toys that have strings attached so we can hang them up. Throughout our house there are a few other toys hanging around so they're handy. Then there are the ones that don't have a way to hang them up and they're on shelves or just lying around the house.
Have I mentioned we like toys?
Right now I'm rather fond of the riding crops. Tonight I was leaning over the back of the loveseat looking out the window when Dan snuck up behind me and started spanking me with the small crop. It felt so nice and stingy, I immediately stuck my bottom out for more.
I was saying "Ohhh" and "Ahhhh" which Dan said sounded like I was cooing, so he spanked a little harder. Mmmm-mmmm! I really do like that little crop.
I think I'll go over and wiggle my bottom in Dan's face so I can get some more whacks with the crop. I'm starting to like his new saying, "If it wiggles, it gets whacked!"