I've got company this week and being the delightful hostess that I am, I've been keeping them hopping from one local attraction to the next all week long. By the time I send them home, they'll be completely worn out but they'll have seen it all. That's why I haven't had a chance to blog until now.
At the moment my guests are at a local hangout waiting for me to arrive so I'm going to have to be quick here. Since I don't have time to chat, I'll post another cute pic.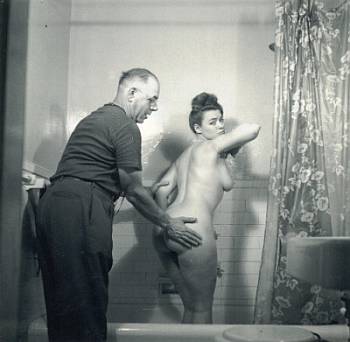 Dan's been threatening to spank me in the shower lately. I guess the after shower spanking is losing its charm so he wants to grab me while I'm still in the shower. That's going to smart!
Not only that, but Dan keeps saying I'm earning spankings while our guests are here and he plans to collect after they're gone. It doesn't matter how hard I try, somehow I manage to do something that makes him add to my spanking tally. I could be in trouble here very quick if I don't watch it. *grin*
Well, I better hop on down to where I've parked my guests and make sure they haven't wandered off and gotten lost. Knowing Dan, that'd be just another mark on my tally. Hehehe.