I got some great pressies for Christmas! Lots of stuff I've been wanting and a couple of surprises, just like it should be. I got some great kinky toys but I can't post a pic just yet, the camera battery was dead and it'll take time to charge back up. Update: I just got the camera charged back up so here's the pics!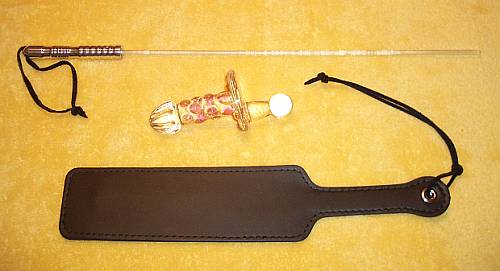 The funniest surprises were the gifts we duplicated. I thought I was really doing good giving him the "Firefly" series collection and "Serenity" the movie from that series. I'm sure he thought the same thing when he bought the same gifts for me. That's the price we pay for liking the same things I guess. LOL
My wonderful kinky toys are really great! I got the lovely leather fraternity paddle I've been drooling over. It's perfect and just as I imagined. I love leather, but sometimes I wish the paddles had a bit more thud to them. This paddle is the perfect answer. It's a lovely combination of sting and thud. It's absolutely yummy!
I also got a beautiful glass dildo that I can't wait to try. It's got pretty pink and gold bumps with a tip that looks like a juicer and a handle on the end for turning it. I've been wanting a glass dildo and this one is gorgeous. Once I unwrapped it, I just kept running my hands over it and it felt so amazing. I can't believe Dan was sweet enough to find one for me. I didn't even have it on my wish list. He's so wonderful. *sigh*
The rest of my stuff was pretty cool, too, so I'm one happy and very spoiled brat. (Like that's a news flash.) The only flaw was some weird thing I found in my stocking. It looks like a miniature light saber (that's it at the top of the pic). It has a pretty silver handle with a long, round clear rod coming out of it. I looked for a switch to see if it had a light in it, but it doesn't. I'm not sure why he'd give me a defective light saber, but since everything else is so great, I decided to ignore it and just settled for swishing it around making a "chooom-chooom" sound for effect. I think I'll just hide it and forget about it. Yeah, that might be for the best. *grin*