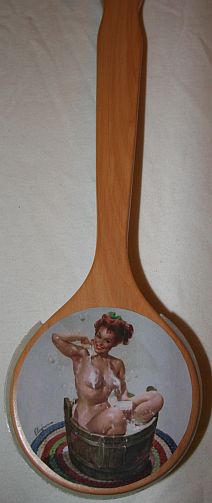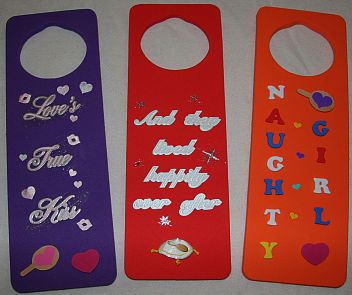 I've love doing crafty stuff, especially kinky crafty stuff, and these are some of the latest things I've been playing with in my spare time. You know what they say about idle hands…something about mischief, I do believe.
Anyway, I've always enjoyed decorating paddles and brushes with spanko themes and that bath brush is my latest. It's a nice bath brush, too! It's even got those nubby massage things mixed in with the bristles.
I already have the bath brush in the picture below that I decorated a few years ago. I call it "Sting" and it's not named after the rock star!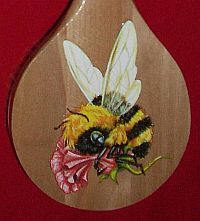 This brush has earned it's name, especially when Dan's caught me just out of the shower and I'm still all moist and tender. I seem to be very spankable at that time as Dan can't resist giving me a few swats if he's around. I suppose it would help if I didn't have so many bath brushes hanging on the walls of the bathroom. Or maybe I should stop buying them? I'm a greedy little spanko so that's probably not going to happen.
Okay, back to the arts and crafts! The door hangers are made of foam and decorated with various things I found at the crafts store. In case they're hard to see in that picture, they read "Love's True Kiss," "And they lived happily ever after," and "Naughty Girl." I gave them a little spanko twist just for fun and added some little paddles and a hairbrush to that cute little pillow. It's amazing what you can pervert if you put your mind to it. And I don't really have to try too hard either. Y'all saw what I did to Yoda.
Now I've got to decide what to do with my new goodies. I think I'll spread the spanko love and give the new brush and the door hangers away as prizes in the next Spanking Den contests. I love contests so that'll be fun!
In the meantime, I have lots of materials for more so I'll keep crafting away. I've got to do something to stay out of mischief!