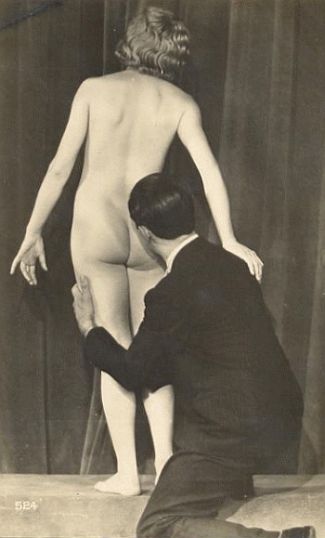 That's what the topic this week at Bonnie's Spanko Brunch is about. Bonnie asks, "Does your bottom play extend beyond spanking?"
It seems the answer for most of us spankos is a definite "Yes!"
I, for one, love all the attention Dan pays to my bottom. He takes every opportunity to caress, pinch, pat, squeeze, and spank my bottom cheeks. He's always telling me he can't keep his hands off me, and that's fine by me.
Even when he's asleep, he reaches over pats and squeezes me from time to time. Even though I only notice it when I'm not quite asleep, I always find those sleepy caresses quite comforting. If I'm having trouble sleeping, I find it usually helps me get right back to sleep.
Then there's the extra attention my bottom gets during a spanking; we've found butt plugs can add to our play. I enjoy the sensation it adds to a good spanking and Dan swears it keeps me from wiggling too much. I think I tend to be still for a couple of reasons. For one thing, there's a lot going on down there at that point and I'm concentrating on all the sensations. For another, I've found that the act of having Dan insert the plug can put me into a deeper submissive mindset and that tends to make me more compliant and eager to please.
We've also tried figging as an added sensation. It can be quite invigorating, if you know what I mean. If you don't, you should try it sometime. Check out Figging.com if you want to learn more. Suffice it to say, figging definitely adds a whole new component to a good spanking!
Of course, I can't leave out the after-care my bottom receives when discussing this topic. Dan is always eager to examine his handiwork. He enjoys marks that really stand out like cane marks and crop marks and he'll often trace their outlines with his fingertips. That sensation is quite sensuous for me. I also love it when he squeezes or pinches my bottom hard while it's still hot and throbbing from a spanking.
Now that I think about it, I like him to pay attention to my bottom anytime. When we're at the theater and I have to get up during the movie, I like it if the seats are close enough that I have to squeeze past. Dan always takes the opportunity to give me a little squeeze. That always makes me giggle. Yup, we're all about the bottom here.
Don't forget to visit Bonnie to read what other spankos had to say on this one!
Image courtesy of Classsic images at Skin Video.