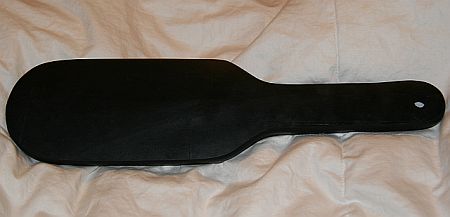 It arrived just in time for the weekend, too! As soon as Dan unwrapped it he just had to give it a try, and since I'd been rather anxious to find out how evil rubber really is, I went right over the arm of the sofa.
Dan likes to give new toys a real tryout which meant my bottom had to be bare. He pulled down my pants and panties and gave me about five good swats with the paddle. That was all I needed to confirm my suspicions; rubber is evil!
Dan approved because he barely had to swing it before he got my attention. It's heavy and flexible so it gives a good whap with lots of burn. Dan was also impressed with how red my bottom got from so few spanks. Normally he has to work harder than that to get any color, but the rubber paddle left very distinct and very red marks.
All I knew was that the deep burning sensation lasted a few minutes despite some hopping and rubbing on my part. I have to say, I'm impressed! I'm so impressed, I'm wondering just how much spanking I can take with that thing. I guess we'll just have to wait and see. I'm hoping we'll get a chance to play with it this weekend, and I'm sure when it's over I'll be hopping and rubbing like crazy. I may even throw in a good booty shake.
That may have to be the new greedy bottom spanking scale. Nice toys rate a quick rub, the slightly evil toys rate a good rub and a little dancing, and the really evil toys rate a real dance complete with rubbing, hopping, and wiggling. You know, that might work.
I really need to come up with some way of grading all these toys, I'd sure hate to get them mixed up in my mind and ask for the wrong one sometime. That could be dangerous.
Especially if I forget which ones I'm trying to avoid and get myself in a position where Dan's threatening to use one of the evil toys. It's bad enough that I ask for the cane when we're just playing, I don't want to get any more confused than that!