Lack Of Spanking = Ebay Overkill
With so much free time on my hands and my need to be spanked becoming more intense by the day, I've been spending way too much time shopping and dreaming of new implements. Ebay is an amazing resource for someone like me; a greedy bottom on the prowl.
I can't believe some of the stuff you can find there! I've been picking up new paddles of every kind. I even got some new Jokari paddles. It's gotten so bad, I'm having another contest at the Den so I can get rid of some of my loot. It's a Valentine contest, of course. That makes sense to me; there's nothing better on Valentine's Day than a bright red bottom.
But even with all that extra loot, I can't help but look around for new items. Now look what I found!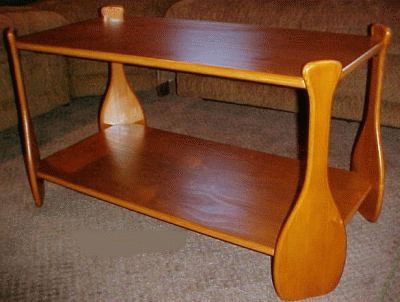 I need that coffe table! I think it would be inspiring and perfect for our living room. I just bought this awesome saddle seat bar stool that is just right for bending over and I think the table would go with my new decor. You see, I'm redoing our house in all spanko decor.
I've decided if I can't be bent over it, spanked with it, or inspired to be spanked by it; it doesn't belong. I'm not sure if our guests will figure it out or not, but right now I don't really care. I'm a greedy bottom and I'm not afraid to show it…at least until I get some spankings and it cools me down. Or should I say heats me up? Either way, I'll take it.
Until then, it's back to shopping. Heh.