Lovely Leather Thorn Paddles!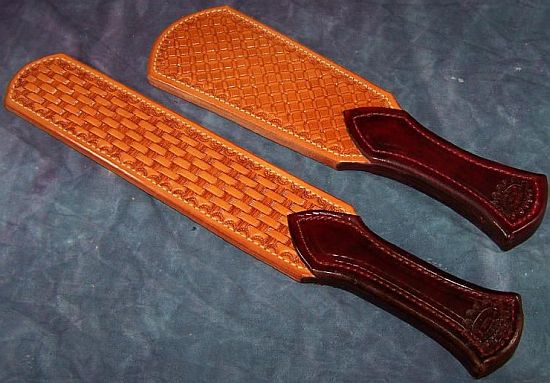 John of Leather Thorn Paddles made these for us and I just have to rave about them! They're absolutely beautiful and it's some of the best leather work I've ever seen. I love the way these paddles have enough heft to make them thuddy as well as stingy. Just the way I like my paddles!
The long paddle is John's Son of Buster Paddle which I ordered to use as the grand prize in the Spanking Den's second anniversary contest. That's coming up later this month and while I hate to part with this lovely implement, I'm sure it'll go to some lucky and deserving spanko.
Since it's not polite to use a gift before you give it away, we haven't tested that paddle ourselves. It's been a temptation but we're holding back. Dan likes the look of the Son of Buster paddle so much he wants to order the Buster for us. He would want the bigger version! Personally, I *like* the Son version so we'll have to come to some kind of agreement on that one.
The shorter paddle is the Beaver Tail Paddle which is ours. Yay! We've been breaking it in and we're both very pleased with it. I love it and Dan's very impressed with it as well. It's a good size for otk spankings and just heavy enough to be wonderfully thuddy.
I've been really busy lately so I haven't been able to write much, which I miss, but things are settling down again. Also, we're taking some time for ourselves soon so we'll be able to really put some of our newer toys to the test. Now that's something to look forward to, at least it is for a greedy bottom like me. *grin*