Whew! It's been crazy for us these last few weeks so we've been trying to spend some quality time together while we try and re-energize. It's been really nice to have this time and I've found myself feeling rather lazy these last couple of days. Honestly, I'd just as soon lounge around with a good book as do anything right now.
I know I'd like a good spanking session, I just don't have the energy to do anything about it. I may need some vitamins. Do they make vitamins for spankos? If not, they should!
I guess I'll just have to make do with using my imagination to get myself motivated and come up with a plan. I think a good meal, some wine, and a spanking video should set the mood properly. I just have to remember to make it a light meal.
The last time I had this plan, I went overboard and fixed a big scrumptious meal that caused us both to just sort of collapse afterwards. This time he'll be lucky to get more than one of my fancy salads. Nothing heavy this time!
We've got too many new toys that haven't had a decent workout and I just ordered a couple of new ones. I'm getting behind in the spanking inventory here. It's frustrating to look at the new toys and realize I don't know what a good session with them really feels like. We really need to get on that!
In the meantime, we got a nice surprise in the mail this week! Pretty Things Press sent us a copy of "Naughty Spanking Stories from A to Z, Volume 2", edited by Rachel Kramer Bussel, and it came with two kinky rubber wristbands. The book was a wonderful surprise in itself but the wristbands were a fun bonus. One said "Bend over!" and the other said "Spank Me!" and I was delighted to get all these goodies. The book is what I'll be curling up with tonight and my buddy Yoda is wearing one of the wristbands for a headband.
Of course I had to take a pic!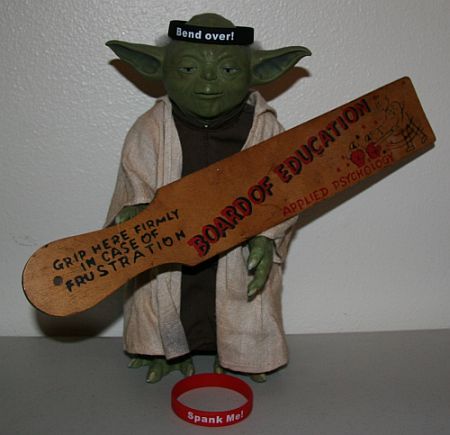 Okay, so I need to grow up a little, but I'm having fun. I just need a Princess Leia doll to wear that other wristband. Then I can pose them and have some real fun. Me and my kinky dolls! Well, maybe the dolls aren't really kinky, but I am…really kinky! *wink*