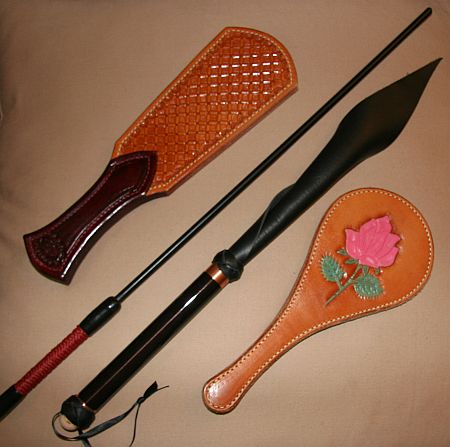 I recently had a birthday and haven't had time to write about the yummy birthday spanking my sweetie, Dan (SpankBoss of Spanking Blog), gave me. The main participants are pictured above. He used my favorite rose paddle, beaver tail paddle (both from Leather Thorn Paddles), the medium sized delrin cane, and a brand new whippy toy. I'm not sure what what the whippy toy is called or where it's from and since it's a gift, I haven't asked. So from here on out, it's the whippy toy.
To prepare for my spanking, I got myself all comfy on the bed, lying face down with a couple of pillows under me, and offered up my bottom for his attention. I'm always eager for a good spanking and my birthday spankings from Dan have been wonderful. He warmed me up nicely with the leather paddles, making my bottom all warm and tingly.
Then Dan being Dan, he snuck in a few zingers with the delrin cane. He landed one right on the crease between my bottom and thigh that really made me wiggle and squeal just a little. Something tells me the wiggling and squealing only encourages him to do things like that. But I can't help it so the evil cycle of wiggling and spanking just keeps on going.
I whined a little and pointed out that it was my birthday spanking and I should get what I wanted. But wouldn't you know it, Dan didn't completely agree with me. Of course, once the intitial sting of that cane stroke settled into a nice warm line, I didn't mind…but don't tell him that! He might start to think he was right after all. Can't have that you know!
After the cane, Dan had gone back to the leather paddles and I became really relaxed. That's usually when things get interesting and as usual, they did.

Those interesting toys are the whippy toy I already mentioned and the Cobra Stinger. The stinger can give either a pulsating zing or a stronger constant one. We've been playing with it for a while, but I don't remember mentioning it. It's a somewhat intense sensation toy and I'm not sure exactly how to describe it. It gives a pretty good sting when set on high and a strange tingling zing when on pulsate.
We've been having fun with the stinger lately but I wasn't expecting it during my birthday spanking. So when Dan told me to spread my legs, I didn't expect him to "help" me along with the stinger. He was using it on pulsate and touching it to the inside of my upper thighs to inspire me to spread them just a little more.
I wasn't sure what Dan was up to, but I was happy to play along and find out. That's when the new whippy thing came out. The leather is rolled from the handle and the tip comes to a point, as you can see in the picture. The end is the impact point and since it's not too long, Dan can really control it. He'd practiced on my boobs earlier so I knew what to expect from it already, and I began to suspect what Dan was planning to do with it then.
Still, when the first stroke landed on the inside of my thigh, I yelped a little and pulled my thighs closer together. Dan touched the stinger to my inner thighs and I quickly parted them again. He was saying something but my mind was on where that whippy end was going to land next.
Then the next stroke landed high on my mound causing me to flinch and squeak a bit but with the stinger's encouragement, I quickly spread my thighs apart again. As Dan continued landing light stingy strokes along my tenderest bits, we kept repeating the process; whip, flinch, sting, spread. It was getting pretty intense when Dan decided it was time to go back to spanking my bottom.
After a nice dose of my favorite paddles again, it was finally time to get down to the actual birthday spanking. We haggled a bit over who was going to count and at first, I was going to let Dan do the counting. Then when he asked if I was sure I wanted him to keep count, I decided it might be better if I did.
Something in his tone made me think he might not be as precise as I might want. I could imagine it becoming the never-ending birthday spanking. I like a good spanking, but even I have my limits!
That's when we got down to business. It was mighty good business, too. Dan increased the intensity with each spank, with breaks for rubbing between sets. I got a little confused after a bit. Well, a little "distracted" might be the better term. I started to rethink the logic of electing to do the counting myself.
The last set of swats were the hardest and I was having a time trying to say the numbers loud enough for him to hear. Did I mention I was getting distracted?
I was almost disappointed when I realized we'd reached the end, and just as I relaxed, Dan gave me an extra hard spank. I'd forgotten the final "one to grow on" spank.
That last swat had barely sunk in when we got down to the lovemaking. With my hot bottom rubbing against the sheets, and my love between my legs, it was the perfect ending to a yummy birthday spanking.
If it weren't for that pesky getting older thing, I would wish for more birthdays more often. I guess that means I'll just have to earn more spankings on my own. A greedy bottom's work is never done.