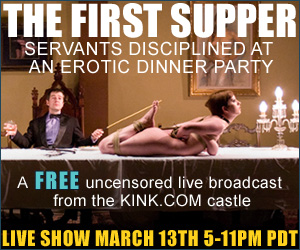 I think it's lucky anyway. It's a free show from the Training of O website. The folks at Kink.com are opening a new area, The Upper Floor, that sounds very interesting and I'm looking forward to getting a preview of the fun Friday night.
For details about the guests, the trainees vying for service on The Upper Floor, and how to get the live feed here's a link: Upper Floor Dinner Party.
Wow, sounds like a party to me!
As for what's going on around here, it's not exactly a party but things are looking up. We're almost completely over our winter crud and I've just purchased some new fancy underwear that I'll have to blog about later after I've had a chance to put them to good use. I gave Dan a quick preview and he deemed them spank worthy. Wheeee!
*Note: To sign up for a free account, follow the link to sign up for an account, enter the fields for username, pw, and email address, and hit the "Create Account" button. That's all you have to do. You don't have to enter any financial info to get a free account.