It all started because I had to run into a store to grab a couple of sale items I wanted. This is how way too many of my "spanked because of shopping" incidents occur, so you'd think I'd know better, right? Yeah, yeah, but then I'd be sensible. Especially since I had Dan with me and he'd agreed to the little shopping detour on conditions. The conditions were that I would be quick and just get the items I was going in for; no wandering around and no getting sidetracked by non-essential items.
So off I went in one direction as Dan went in the other. As I'm zipping through the aisles, conscious of how much time I'm spending because Dan was only getting a couple of items of his own and I surely didn't want to keep him waiting, I saw my downfall in the pajama section. I stood there like a deer in headlights looking at the cutest pajamas I'd ever seen.
"Oh my…I must have them…but I can't…can I?" My brain locked up at that point as both the angel and the devil sitting on my shoulders both began to screech, "Squeeee!"
But Dan was somewhere in the same store and I needed to hurry. After all, he was good enough to cooperate by going shopping with me in the first place and I didn't want to violate the shopping conditions. But these were the cutest pajamas I'd ever seen!
I slowly walked up to the display to fondle said pajamas. They were made of soft fleece…yum…with a yellow duck design. They were also a footed one piece with a zipper down the front. No drop seat though, but that was fine with me. Because they were the cutest pajamas I'd ever seen! Have I mentioned that?
But somewhere in my memory, I remembered something vital; Dan didn't like that type of pajamas. *sigh*
Somehow I managed to regain my sanity and pull myself away from the display. Slowly, I walked away, with just one glace back before reminding myself to hustle. I was good, too, and managed to get in line before Dan. The shopping trip was a success, but I couldn't forget those pj's.
Much later that evening, I mentioned the pajamas. I wanted to know, how strong was his objection to them and if there could be an exception. After some discussion, it turned out Dan's objection was more about sleeping in them than wearing them. Since I sleep in the nude, that wasn't much of an objection it turned out and after I promised to never wear them in the bed, I got the clearance I needed. Woo-hoot!
There was one little condition though. Since Dan doesn't like clothing that hampers easy access, he had to make some rule about them and, of course, that rule had to include his beloved delrin cane. He said if I bought the pajamas, anytime I wore them, he would cane me in them. I already have at least two pairs of panties that Dan thinks wearing them means I need a caning, was I ready for a pair of caning pajamas? I protested a little, but eventually I agreed. How could I not? I get the pajamas and a caning. Since the caning will be for fun, it's a win-win as far as I was concerned so I went back and got my pj's.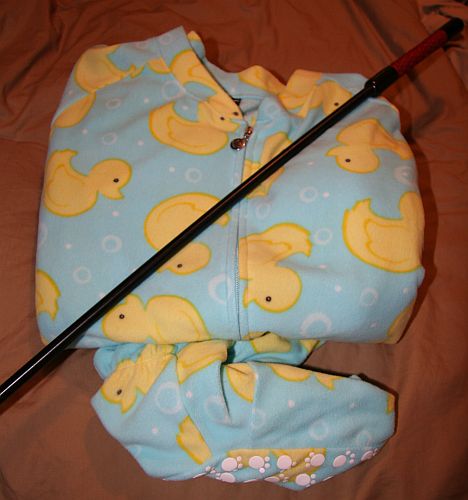 I was about to take a picture of these when Dan came along and added the cane for the full effect. Then he gave me a couple of strokes just for fun. He can't even see the pajamas without reaching for the cane! Then he asked if I was going to put them on. I think I'll put them on later this evening. They're going to be my lounging pajamas; my lounging and caning pajamas, that is.
One last thing for those who might be interested, I bought the pajamas at Kmart. I got them in a larger size (that's what they had) so they're a little baggy on me, but I don't care, they're comfy. I lourve them!