It's been awhile, hasn't it?

Yup, I completely lost my mind on this one and my bottom paid the price. Super ouchie! My bottom was so sore I couldn't sit comfortably for days after a playful session with this diabolical paddle. Rubber is evil, people, remember that. Of course, I can't help but share the evil so here's how I made this devil.
I went to my local super duper discount department store (okay, Wally World) and found what are called "Safety Step" pads in the automotive department. (You can also find them online by searching for "rubber safety steps" if you prefer.) Why automotive? Supposedly you can put these on the steps some trucks/SUVs have. That's all fine and good but I had other plans for those lovelies.
They have self-adhesive backing which makes them easy to stick together and make a heavy duty paddle. First, I measured the pads and created a paddle pattern which I traced onto the adhesive paper they were backed with. I was careful to shape a handle that could be easily held onto since it's a bit hard to get a good grip on the rubber. It's not stiff like a wooden paddle and it's flat so it's important to get that part right. Then I cut the pads one at a time. Once they were a matching set, I removed the paper backing, lined the two sides up with the sticky sides facing each other, and carefully stuck them together.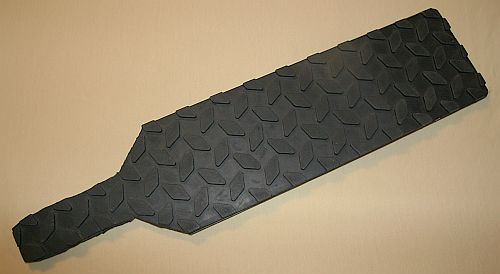 Voila! My very own rubber tread paddle made with my very own crafty hands. And it was a whole lot cheaper and fun than buying one.
That, btw, was the last sensible thought I had about that paddle. Once it was in Dan's hands, it was a totally different story. Wowza! Once again my greedy bottom got the best of me. It sounded like a good idea at the time. Just looking at those rubber treads and dreaming of how I could make one mean paddle using those pads got me all worked up. So worked up that my good sense went on holiday and left me hanging.
What spanko bottom out there hasn't had the same experience? You know, you see a toy and start dreaming of how good a spanking would feel with it. Then the butterflies start, your bottom starts to tingle (as well as other parts *wink wink*), and you have to have it. Oh yeah, I know that feeling well!
I had to have it and then once it was finished, Dan gave it to me good that night. That paddle burned like crazy! Not just during the spanking but for quite a while afterwards. I knew at the time I had made an error in judgement. It didn't feel that heavy just holding it, but when it was swung…OUCH! Each time that paddle landed it left a deep searing burn across my bottom like few other implements ever have. I think that's because it's rubber, covers so much area, and has all those treads across it. That paddle set my bottom on fire!
The day after my bottom was marked and so sore I could barely sit. Then for the next few days I couldn't sit comfortably at all. It was days before the soreness went away. But it was a lovely soreness so I'm not complaining. Some of us bottoms dream of such an after burn, but it still takes one by surprise when it happens. It's definitely not an unwanted feeling, it's just surprising, that's all.
So, take this as a warning to any of you greedy bottoms who should feel the need to create such a paddle. It's formidable and not for everyone, but if you enjoy a spanking that delivers a seriously deep burn, then it might be the paddle for you. I still get butterflies and the tingles just looking at it. Eeeek! *grin*