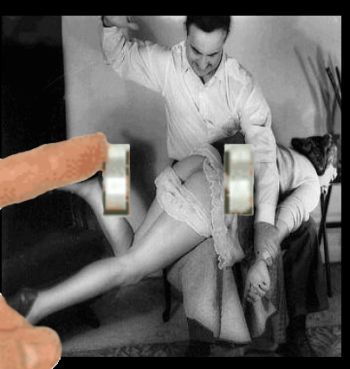 I recently went out of town and I guess Dan decided he wanted our spanking toys where they'd be handy. It appears he went on a home improvement spree, spanko style. I came home to find we had toys hanging up or conveniently lying out all over the place. It was like the spanko version of that old country song, "I'm Going To Hire A Wino To Decorate Our Home."
Everywhere you look, there are spanking implements. In the kitchen, in the living room, by our computers, in the bathroom, and most especially, on every wall of the bedroom. And the worst part? The evil rubber spatula that I thought had died from rubber decay is back. It's hanging on a hook between the kitchen and living room. Aaaagh!
The last time I saw that thing the rubber around the edges was disintegrating and causing it to be totally useless as a spanking toy. Well, as a spanking toy that didn't leave sticky residue on my bottom, that is.
I really thought its reign of terror was over. I even did a jig.
But it's back and I've already felt its brutal power twice this week. I really think it's long overdue for a horrible kitchen accident. I really wish we didn't have an electric stove. It would burn much better if we had open flame burners.
The good news is, my favorite leather rose paddle is hanging in a very handy place in the bedroom. I keep pointing this out at every opportunity, too.
I was happy to see that the bug zapper paddle is safely put away in the walk-in closet. The less handy that thing is the better. The rattan canes are in there, too. At least I'll know when he's going for the big guns so I can run and hide prepare myself.
Now I've got to figure out what I can do to add to the new decor. I thought a spanko switchplate would be nice so I came up with the picture above to see how it would look. It'll fit right in with the bedroom theme, especially since my favorite cuffs are hanging close to that switch. I think if I add a nice Bettie Page throw for the bed, I should be all set. I just wonder how our visitors would react if I made some coasters, too?