A Greedy Bottom Went Shopping…
As Dan reported on his blog, I have new toys that I bought while I wasn't getting enough spanking. That's about as good an idea as going to the grocery store when you're hungry. My greedy bottom led me to buy some things I really didn't need, but I sure did want them!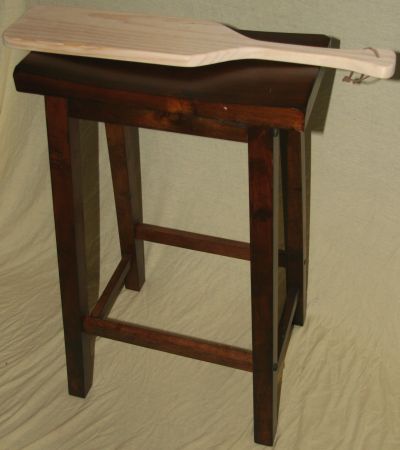 First here's this lovely new saddle style bar stool I found online. It's perfect for bending over and once Dan pushed me over it, my bottom was the perfect target for spanking. That bottom rung is great for hanging onto, which I found handy once I was over it.
Unluckily, I'd also been to the craft store looking for things to keep me busy. That's where I found that big paddle. I was going to paint it and make a nice "Welcome" sign out of it. Now it's Dan's new favorite wood paddle.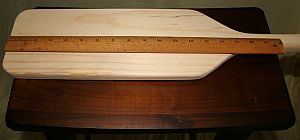 It's huge! It's 3/4″ thick, over five inches wide on the business end, and almost two feet in total length. That ruler in the photo is an eighteen inch ruler so you can see how big the paddle is next to it.
What was I thinking? Dan practically chortled when he saw it and couldn't wait to apply it to my bottom. It turns out it's very very ouchie. Once he had me bent over that stool, he gave me eight swats that had me dancing like crazy by the last one…very ouchie!

Here's the hairbrush Dan mentioned in that post. Isn't it lovely?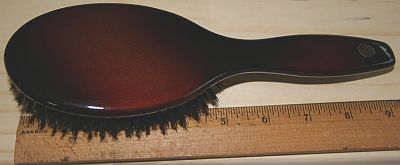 As you can see, it's about 9″ in length and very well varnished. When I saw it in the store, my greedy, greedy bottom was just itching for me to buy it. So, of course, I did.
When Dan first put me over his knee and started spanking me with that thing, I couldn't believe how badly it stung. I haven't had a good spanking in some time, but I had no idea that brush was going to effect me like that. I was kicking and yelping like I haven't in a long time!
That's when Dan put me over the sofa arm. Whenever he'd spank my thighs, I couldn't help but squeal and arch up, and then Dan would lift me a little and push me further over the arm. That put my bottom in an even better position for spanking.
It didn't help that he decided that would be a good time to address one of my little misdeeds that I'd been promised a spanking for. He was spanking away with that nasty brush and asking me questions that I could barely answer.
My bottom was on fire and he was asking me if I thought it was a good idea to do what he told me from now on. I was yelping and trying to answer right, but all I really remember is saying, "Yes! Owieee! Yes!"
I really can't believe how much that thing stings! Afterward, it felt like my bottom was actually scorched. It hurt so bad that even while Dan was hugging me afterward, I could hardly stand still. I was so grateful it was over, I pushed him into his big recliner, got down on my knees and gave him a nice blow job. I don't know if it was all that lecturing along with the spanking, but I really wanted to do that. Funny how that works.
Then, silly but still greedy me, had to go and show him my new razor strop. It felt nice and flexible so I thought it'd be a really nice toy. Wrong!

That strop is heavy and lands with a terrible burning thud. It didn't take long for me to beg Dan to stop. When he finally did stop, my bottom was feeling extremely sore and tender so I asked Dan as nicely as I could to please rub it a little. Which he was kind enough to do. He rubbed some other things, too, so it all ended wonderfully. For me, there's nothing better than being made love to when I have a sore, aching bottom.
I've about decided my bottom is completely out of spanking shape because it's still a little tender. My big Valentine's Day spanking is going to be very interesting.
60 strokes? I may have to buy a new pillow for my computer chair if I plan to tell y'all all about it anytime soon. A really big fluffy pillow might be in order actually.