My Other Valentine Presents
Besides that epic caning, I received a few other Valentine goodies from my honey.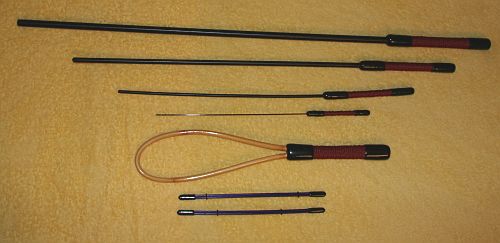 Obviously Dan had canes on the mind when he did his Valentine shopping! The top three canes are delrin canes, that skinny little thing under them is something called a Misery Stick, then there is the rattan loop, and the last two are Japanese bamboo tongue clamps.
We haven't tested these toys out too much yet, but so far it's been interesting. The big cane is very thuddy and has quite an impact and the smaller canes are very stingy. I have the feeling that the Misery Stick is probably going to live up to its name. Go figure! That rattan loop thing delivers a nice burn so I'm very interested to see how it feels when really used. As for the tongue clamps, let's just say, they're not only for using on tongues. I guess that's why he bought two of them. *wink*
I'm planning to post more about the big caning before the weekend is out. The pictures tell most of the story but I thought I'd fill in the blanks. That is if we don't get sidetracked tomorrow night, I'd really like to break in some of those new toys, you see. Then I'll really have something to tell, I'm sure!