New Spanking Regime – The Beginning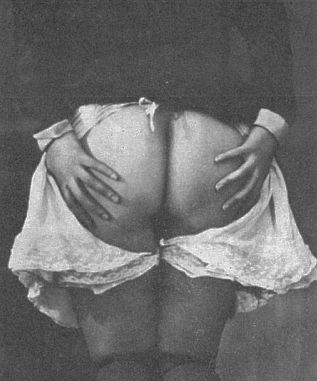 Because of all the things going on lately, Dan and I haven't had much time for serious spankings. I was still getting the regular short spankings that just happen, but I hadn't had a real sore bottom in some time. Dan kept saying I was getting upity and he needed to start that new spanking regime he's been threatening me with for a while now, but with as busy as we've been lately, it just wasn't happening.
Then the other night I finally had time to put the finishing touches on the 52 spanks post and in the process realized how badly I wanted a good hard spanking. I mentioned that to Dan and before I knew it, I was face down and bottom up getting a heavy dose of the hairbrush. I must have been a bit out of practice or Dan was making up for lost time because in no time, my bottom felt like it was being set on fire!
The first spanks just made me gasp but as the spanking progressed, I started yelping and kicking as the burning sting of the hairbrush was increasing with each fresh spank. I really squealed whenever he'd spank my thighs. Dan would pause occasionally to get a better hold of me, and then he'd go right back to his rapid fire rhythm.
I couldn't believe how much that stupid brush stung! No matter how much I pleaded for him to slow down and go easy, Dan just kept right on spanking as vigorously as ever, maybe even more so. At one point he'd been spanking for so long that I was getting a bit out of control. My legs were kicking in every direction trying to get away from that brush but that only have him better access to certain areas.
Dan likes to cover as much area as possible so he spanks my entire bottom from top of the cleft down and across from hip to hip as well as down to about mid-thigh and along my inner thigh. When he's done, I always feel thoroughly spanked. This time with all my gyrations, I was spreading my legs and giving him access to the lowest and most inner part of my bottom as well as my inner thighs. Dan took ruthless advantage of that situation and certain well-placed spanks caused me to throw back my head and howl.
Dan is good at gauging just how much I can take because about the time I thought I was reaching my limit, he'd go back to spanking my more padded areas or stop for a quick rub. I could feel my body reacting favorably and even though I was kicking and complaining, I knew how wet I was getting. Dan knew, too.
He just kept building up the heat across my bottom while reminding me it had been far too long since I'd had a really good spanking, teasing me about how sore my bottom was going to be when he was done, and pointing out how much I must be enjoying it based on the wetness between my legs. The evil man knows how to push all my buttons!
Just when I thought he was never going to stop spanking me with the hair brush, he said it was time to move on to the Attitude Adjuster. Now I have to admit that I haven't been as good as I could've been and my attitude has a little less than perfect, but I wasn't sure the Adjuster was necessary. But I don't get to make those decisions, so the Adjuster was soon put to work.
It's made of sturdy wood but it also has a bit of flexibility so Dan can swing it really hard without it being too harsh. All the same, it still leaves a long intense line of sting with every swat. I have no idea how many swats he gave me but I can tell you it was more than enough to get my attitude adjusted completely!
Over and over the Adjuster landed on my throbbing upturned bottom. I had to hang on and not move too much because I didn't want a single misplaced stroke with that paddle. I was getting to the point where pain and pleasure were so mixed together that I was becoming insatiable. I kept my bottom up, eager to feel the burn of each stroke.
When Dan stopped, I wasn't sure I was ready to stop until my body reminded me the ache between my legs needed some attention as well. Lucky for me Dan knows exactly how to quench that fire.
That spanking session should have kept me satisfied for days, but instead it just seemed to whet my spanking appetite. The next day my bottom was sore and a constant reminder of how good a hard spanking can be. I couldn't stop tempting Dan to spank my bottom every chance I got. He keeps the hair brush on a table by his chair and I had to pass it every time I went up or down the hallway. It was too much temptation for me.
The intensity of each spanking on my already sore bottom was only a temporary relief. My greedy bottom was in overdrive. I don't know how many short spankings I got with the brush, but each one only seemed to increase my desire for more.
By Saturday my bottom had developed a deep itch and the new sensation of being spanked on my itchy, sore bottom kept me coming back for more. Dan kept saying his new regime of keeping my bottom tender must be working. I didn't argue a bit. If I had known the new regime was going to have that effect on me, I might have encouraged him sooner!
Now it's Sunday night and I'm once again sitting on a very well-spanked bottom. It's been a long night though so I'm going to have to save the telling of tonight's spanking for later. I'll just tease you by saying that while writing this post, I've had to stand up more than once to relieve my poor tenderized bottom. I'm feel so good that I'd purr if I could. *grin*