Look what Dan bought for me! Aren't they lovely?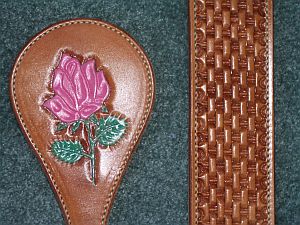 I just love them! He bought them from Leather Thorn Paddles and they're wonderfully crafted. They're also the perfect combination of stingy and thuddy that I like.
The rose paddle feels wonderful when used lightly as well as harder. The strap is pretty intense but I *like* that.
Dan just couldn't wait to try them out on me and gave me a couple of good ones with the strap and several light to heavy spanks with the rose paddle. Wow! My bottom was still nice and warm several minutes later.
That's when Dan got inspired and gave me a few more with both. That short spanking turned my bottom a very nice shade of red and it's still hot twenty minutes later. And I'm no light-weight when it comes to spanking.
Dan's almost complained that I have a tough bottom because he has to really work to mark my bottom and keep it warm. Well, I think that problem has been solved. And I'm so happy! *grin*